#BundesligaIsBack
MIAMI, Fla. — (18 May 2020) Football returned to Europe this weekend, specifically to the Bundesliga, although with a number of restrictions. Fans watching heard the players and the ball, rather than supporters. It defintely lacked the atmosphere of games before the pandemic, but, at the very least, live games had returned.
New protocols were observed: players bumped elbows or celebrated in mediative positions, masks were worn on the bench, and Dortmund players saluted an empty "wall," the famous end of the stadium where their supporters stand, after their game.
The most anticipated match of the weekend, the Revierderby, saw Dortmund run away with a comprehensive 4-0 win over their rivals Schalke 04. Goals by Erling Haaland (29′), Raphael Guerreiro (45′), Thorgan Hazard (49′), and a second by Guerreiro (63′) completed the win.
"It was very, very special," Dortmund coach Lucien Favre said in the virtual postmatch news conference. "There's no noise, you create a chance, you play a top pass, a goal and … nothing. It's very, very weird. We miss our fans very much. It was just a very different match."
En route to a critical victory that gave them further distance from the drop zone, Hertha Berlin players challenged the safety protocols. The Hertha players did not observe the social-distancing instructions after each of their three goals, instead celebrating with a team embrace and other forms of physical contact.
An example is seen in Hertha BSC's third goal by the Brazilian Matheus Cunha away to Hoffenheim, a match that sealed a 3-0 Hertha win at Hoffenheim.
Berlin head coach Bruno Labbadia was not concerned by the celebration of the players. Asked about it after the game, he offered the following: "Goal celebrations are part of football. We have been tested frequently and that's why I believe this should be allowed. It would be a shame if you weren't even allowed to celebrate, even more would be destroyed."
The Deutsch Football League ("DFL") has said it will not impose any sanctions on Hertha Berlin as a result of the violation of the safety protocols. In doing so, the league exercised a degree of common sense, ont turning one indicent into a full blown controversy. and challenged the league's recommendations to avoid group celebrations.
"Advice and orientation was given on the issue of celebrating in the appendix of the report," the DFL said in a statement. "There will be no sanctions."
The DFL had worked out a detailed 51-page medical and organisational report on how to bring back football amid the coronavirus pandemic, and in a separate report, not made public, passed on advice to teams with more details that were not legally binding.
From ESPN, read more about the return to games in the Bundesliga:
Reports out of Germany last week indicated that referees did not intend to caution players if they attempted to celebrate. That turned out to be true, though apart from the challenge to the protocols by Hertha players, which may indeed have been players being caught up in the moment and not an intentional attempt to violate the rules, the other clubs playing over the weekend observed the social-distancing.
Elsewhere around the German top-flight:
Bayern Munich restored their four-point lead at the top of the table with a 2-0 away win in the capital against Union Berlin. Munich striker Robert Lewandowski scored his league leading 26th goal of the Bundesliga season.
Canadian international Alphonso Davies turned in a solid performance for Bayern. Although the 19-year old said he would need a couple of games to regain his rhythm, he played the full 90 minutes with energetic bursts. He beat his marker three times in the first half and placed crosses that had to be scrambled away.
VAR helps Leipzig salvage a draw
RB Leipzig remained in the title chase with the help of the video assistant referee (VAR) to salvage a 1-1 draw at home to Freiburg. Leipzig wasted many chances after falling behind until captain Yussuf Poulsen's header equalised in the 77th minute. Freiburg had appeared to seal a victory in stoppage time but the would-be winning goal was ruled out by VAR for offside.
Leverkusen over Bremen
In the Monday evening match, Leveerkusen continue to press for a place in a European competition next year, winning decisively 4-1 away to Werder Bremen, who now find themselves a full 9 points adrift in the relegation zone. Leverkusen midfielder Kai Havertz added to his portfolio, scoring twice in the 4-1 victory.
Leverkusen sporting director Simon Rolfes told ESPN FC last week that "it's just fun watching him" and playing as a false nine — think Michael Ballack meets Mesut Ozil — Havertz is projected to be Germany's most expensive player within the next season or two, and is being linked with upwards of a €100 million transfer to Bayern Munich, or to LaLiga clubs like Barcelona or Real Madrid.
9 Games, 28 goals
The results from Spieltage 26 in the Bundesliga: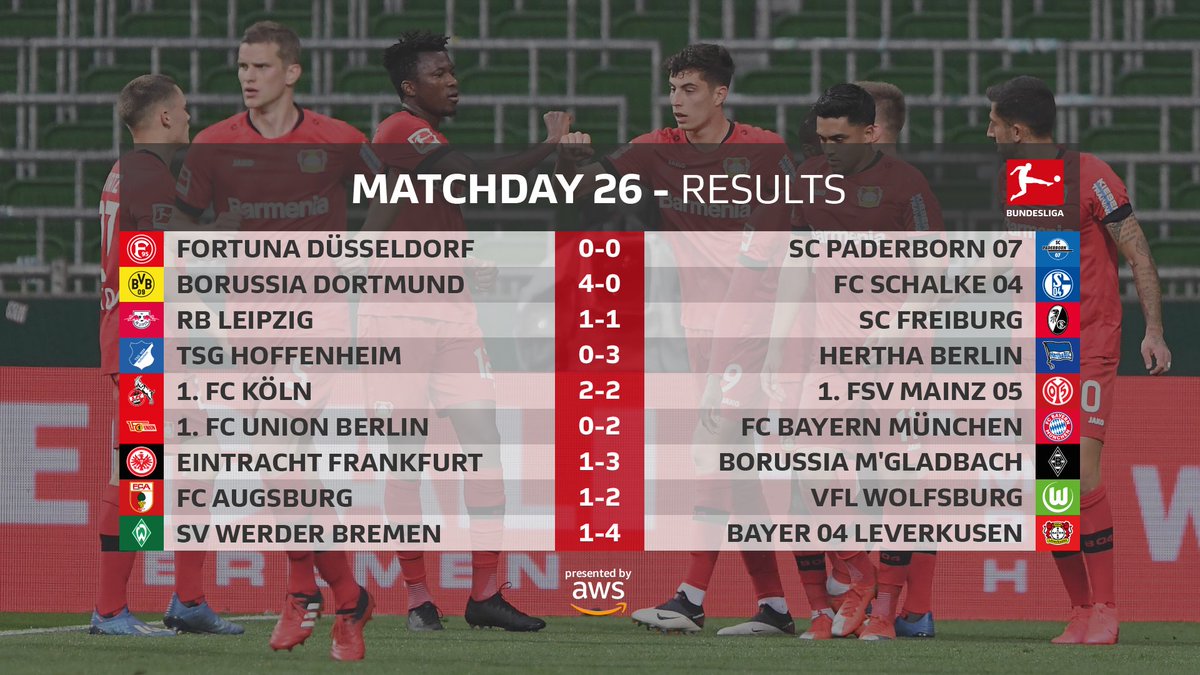 The table as of Monday evening: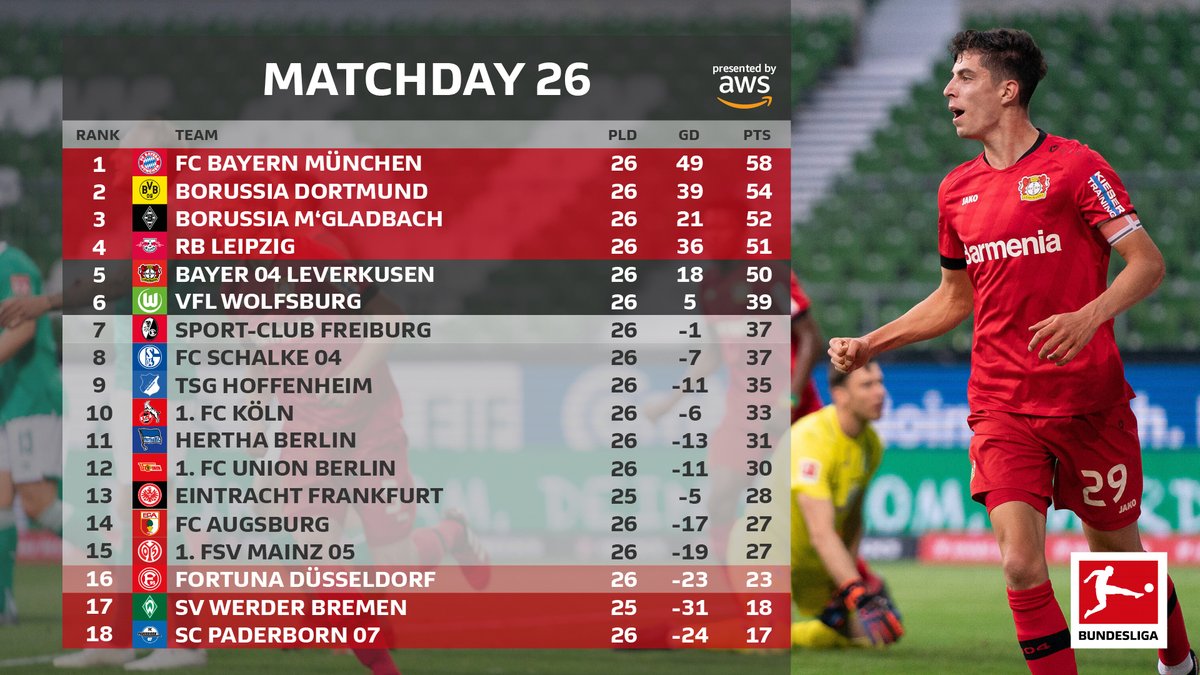 ---