Messi's decision dominating the internet.
BARCELONA, Spain (27 August 2020) — Lionel Messi has told Barcelona it's time to say "adéu" (Catalán for adíos). He says he is invoking a recision clause in his contract with the Blaugrana that he contends gives him the right to leave the club on a free transfer, sources in the organization told media outlets Tuesday.
The Argentine legend conveyed the message via fax and followed up with a registered letter, the sources said.
The message reads: "By means of this letter, I, Lionel Andres Messi Cuccittini, with an ID [blank], request that the employment benefit contract that I currently occupy in your distinguished club be terminated, based on clause number 24 that allows me to have this power.

"I appreciate all the opportunities for personal growth and professional preparation that were offered to me during the time I worked. Learnings that allowed me to consolidate my technical and human profile, but for personal reasons this [blank] difficult decision was made to me, which I hope will be made in the best way by the management of this club."
Under the terms of the megastar's contract with the Blaugrana, which expires on Jun 30, 2021, the 33-year-old Messi is entitled to request a release prior to June 10. Notwithstanding, his representatives seem to be making the argument that Messi has timely exercised his release clause and/or believe it should have extended to August due to the coronavirus pandemic's impact on the football season.
The opposing argument from Barcelona's management is that when June 10 passed without such a request, the contract was automatically renewed for another year. As a result, any club interested in acquiring Messi must pay the rescission fee of €700m ($826m). There seems to be some doubt about whether the contract clause actually contains a fixed date or, even if it does, whether the proper interpretation is meant to be at the end of the season.
Messi, who has spent his entire senior career with Barça, signaled a desire for change in his first conversation with Ronald Koeman, named last week to replace Quique Setien as coach after the side's humiliating exit from the Champions League.
In the initial official response to Messi, also conveyed by registered letter, FC Barcelona directors urged the captain to remain with the Blaugrana and spearhead the club's new sporting project "with renewed strength and hope." While trying to persuade Messi to stay with Barça until he's ready to retire, the message reiterates the club's position that he cannot leave now for another club unless the release fee is paid.
The striker's request for an exit came hours after former Barcelona club president Joan Laporta accused the present management of hoping for a financial windfall from selling Messi.
And the news of the request brought renewed calls for the resignation of current Barça president Josep Maria Bartomeu, whose tenure has been marred by strife among management, players and coaches. Since the news of Messi's desire to leave broke, there have been daily gatherings of fans outside of the team's offices demanding that Bartomeu resign and that Messi stay.
Bartomeu "has to resign immediately," Laporta said, accusing the president and the other directors of "undermining Messi's morale" and voicing the hope that new management could persuade the six-time Ballon d'Or winner to stick with the Blaugrana.
Messi has collected 33 trophies in his 19 years at Barcelona, including 10 LaLiga titles and four UEFA Champions League titles, and holds the Spanish top-flight record for most goals, 444.
His long-time strike-partner at Barcelona, Luis Suárez, tweeted emoticons in approval of Messi's decision to leave. Suárez, Barça's No. 3 all-time scorer with 196 goals in 292 appearances, is one of several veteran players told by Koeman that his services will no longer be required.
The man who preceded Messi as Barcelona's captain, Carles Puyol, was similarly encouraging, with his message posted on his Twitter account: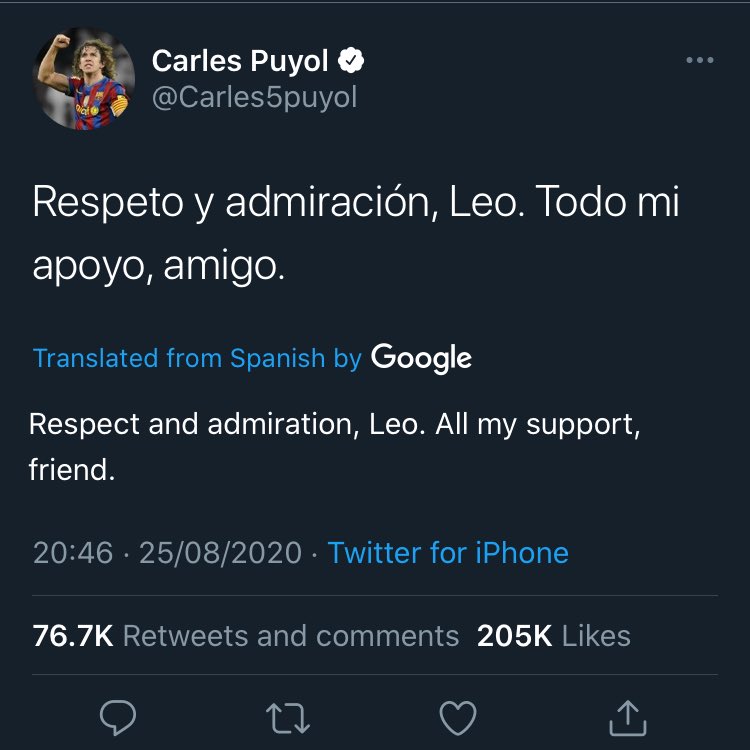 Barcelona is coming off one of their most disappointing seasons in recent memory. They dispatched manager Ernesto Valverde in January, a point in time when they were still in first place, opting to bring in Quique Setién, who appeared out-of-place on a stage the size of the Camp Nou. When the season resumed, Barça saw their quest for a third straight LaLiga crown spoiled by archrivals Real Madrid, while Athletic Bilbao bounced them out of the Copa del Rey in the quarterfinals.
Those failings however paled in comparison to the absolute embarassment suffered in the Champions League, an 8-2 loss to Bayern Munich in the quarterfinals on Aug. 14 that turned out to be the final straw for head coach Quique Setién and sporting director Eric Abidal.
Messi made no effort to hide his disgust with the outcome against Bayern. After suffering previous defeats in the Champions League knockout stages to Roma and Liverpool, he certainly knows that time is running out for a chance to lift the trophy on the biggest stage in football. Now, he appears to have decided that he is not ready for the rebuilding project at Barcelona and that his best chance of hoisting that Champions League trophy for a fifth time lies elsewhere.
Paris Saint-Germain and Manchester City are said to be interested in signing Messi. Inter Milan have also expressed interest. Of those clubs, Manchester City is seen as having the best chance to land the star, mainly due to Pep Guardiola being the manager. Both Paris and City have deep pockets, but whether they could shell out the sums required to secure Messi without breaching UEFA's Financial Fair Play regulations is an unanswered question. If a deal is to be worked out with Barcelona, expect it to involve not only money, but players, something not common in European football.
player L. Messi FORWARD news | player detail