With the stakes as high as they are in the European qualification matches for the World Cup 2022, not having VAR is simple inexcusable
Portugal robbed of win in largest error to-date in World Cup 2022 Qualification rounds; should be awarded three points.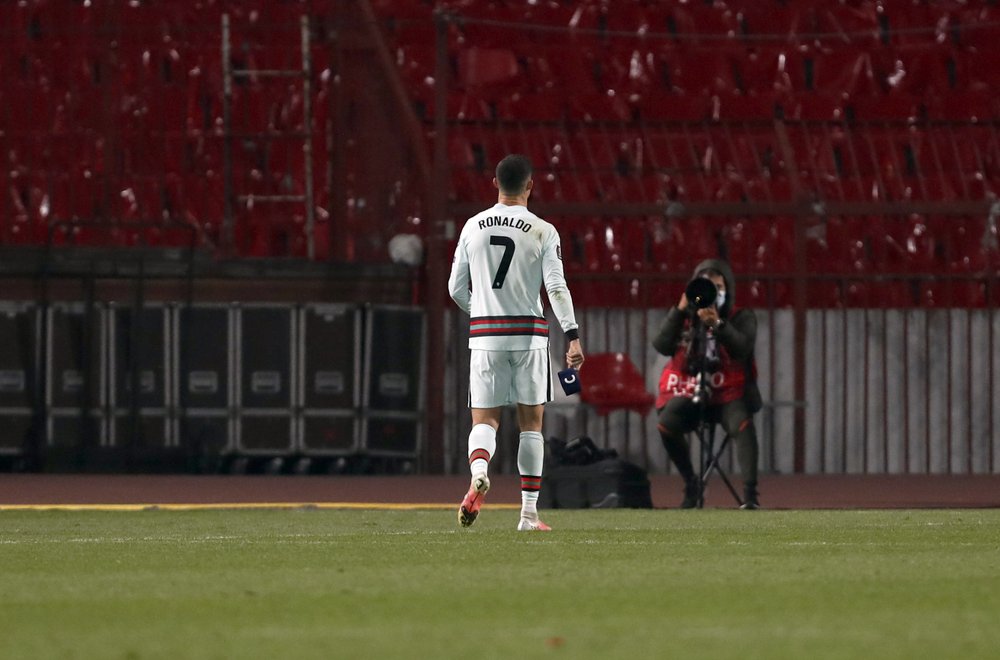 RUSSO'S CORNER
Video assisted review. You just can't live with it, or it seems, without it.
In the closing seconds of injury time in Portugal's away match in Belgrade, Portugal's Nuno Mendes hit a long pass to Cristiano Ronaldo, who scored what would have certainly been the game winner for the Portuguese.
However, Dutch referee Danny Makkelie, who was not on the same side of the pitch at the time of the goal, ruled that Serbia defender Stefan Mitrovic had cleared the ball off the line. The assistant referees apparently somehow managed not to see the ball cross the line either. Replay showed, beyond all reasonable doubt, that the ball was well across the goal-line when the Serbian defender tapped it back out. Without VAR or goal-line technology, there was no evidence to overrule the referee.
Fixing this injustice after the fact would be easy. Portugal scored the game-winning goal seconds before the final whistle, and should be awarded three points. Let Serbia keep its point, but UEFA or FIFA should intervene and give the rightful winners their points.
Either VAR or goal-line technology would have correctly called the goal.
If the match had been using VAR, or only goal-line technology, either would have produced the correct decision. But neither were in use.
Portugal's manager Fernando Santos was rightfully incensed at the referee's decision:
Ronaldo was shown a yellow card for his protests, which only served to fuel his rage. He stormed off the pitch, waving his arms and throwing his captain's armband to the grass.
Portugal has every reason to be irate at the blown call. In the European World Cup 2022 qualifiers, only the first-place team automatically qualifies. The second-place teams have to go to a oneoff playoff game, where anything can happen. (Portugal's group includes Ireland, Serbia, Luxembourg and Azerbaijan.)
According to UEFA, there is no VAR in European World Cup qualifying. because not every stadium is equipped for it. Given that, UEFA decided that if every team is not VAR-compliant, then no teams gets to use it at their home games. The federation informed FIFA in January that VAR would not be used in qualification games. It was just too big of a task, according to UEFA, to equip every stadium in each of the 55 UEFA nations with VAR technology. However, the truth is that more than two-thirds of UEFA member nations have at a minimum one stadium that is equipped for VAR. So much for that excuse, UEFA.
After Portugal was robbed of an important victory, UEFA came up with a different excuse, issuing an official statement and in the process declining to accept responsibility for the mess it had created, saying that it is up to the host association to request that VAR be used, which must also be accepted by the visiting association.
"If the host association plans to implement goal-line technology, they must also obtain written consent from the visiting association in order for it to be used."
Here's my take: If a UEFA country cannot equip at least one of its stadiums for VAR, then I seriously have to question whether that country should even be a part of the qualification for a World Cup. If that was the rule, you'd see how fast each UEFA nation had a compliant stadium ready.
Other competitions, such as the FA Cup in England, limit the use of VAR to when it is available. That should be the rule in UEFA competitions. The Marakana Stadium in Belgrade is in fact VAR-compliant. Only a few weeks ago, VAR was used in that stadium when Crvena Zvezda (Red Star Belgrade) hosted AC Milan in the Europa League.
For his part, Ronaldo made his sentiments clear after the match. "Being captain of the Portuguese team is one of the greatest privileges and pride of my life," Ronaldo wrote on Instagram. "I always give and always will give everything for my country, that will never change. But there are difficult times to face, especially when we feel that an entire nation is being hurt." I say he had every reason and every right to walk off.
The lack of VAR makes the referees' jobs harder: most are by now accustomed to working with VAR, and then it's taken away in a high stakes match and the referee is asked to make big calls without it. It's like back up cameras in automobiles. At first we didn't use them because we were used to backing up manually. If they were to suddently be removed, many drivers wouldn't be able to use their own judgment any longer.
I am a frequent and vocal critic of VAR, having seen it make countless numbers of bad calls in La Liga. It's infuriating to see a beautiful goal disallowed because a player was adjudged to be offsides by a millimeter, literally by a finger. I believe that how VAR is used needs to be throughly rethought. But VAR is here and the technology is not going to go away. It was designed to eliminate the big mistakes – like this one.
VAR is 'too important' not to have in World Cup qualifiers. As bad as VAR is, no VAR is even worse.
---
On a positive note,
The Portugal captain's armband which Cristiano Ronaldo tossed onto the grass was put up for auction on Tuesday after a stadium worker picked up the armband and turned it in. A charity group will use the proceeds from the auction to collect money for the surgery of a 6-month-old boy from Serbia with spinal muscular atrophy.