The Making of Club Internacional Fútbol Miami
Selection of First Sporting Director
Paul McDonough was named Inter Miami CF's first sporting director in August 2018.
Building the roster
Over the summer and fall, Inter Miami CF began signing players to its first-team roster. But Miami is not able to just go out and sign any player who it wants and who is interested in coming to Miami. A Major League Soccer club's active roster is comprised of up to 30 players. Inter Miami's players will occupy roster spots that are numbered from 1 to 30.
"I think you're going to see a tremendously talented team," said Mas.
Senior Roster
Inter Miami's best players will occupy slots 1-20 on the roster. These 20 players will count against the MLS team Salary Budget of $4,240,000 (using 2019 limits), and will be referred to collectively as the club's Senior Roster.
Supplemental Roster
Inter Miami will also have up to 4 players on its Supplemental Roster. These players occupy roster slots 21-24 and do not count against the club's Salary Budget. Slots 21-24 may be filled with (i) Senior Minimum Salary Players ($70,250 in 2019), which may include Homegrown Players, (ii) Generation adidas Players, (iii) any specifically Designated Players eligible for the MLS SuperDraft; or (iv) Homegrown Players earning more than the Senior Minimum Salary subject to the Homegrown Player Subsidy.
Reserve Roster
Includes players occupying roster slots 25-28. All players in slots 25-28 must be paid a base salary that is at least the Reserve Minimum Salary ($56,250).
Reserve Roster slots 29 and 30
Players occupying roster slots 29 and 30 must be Homegrown Players and will follow the same roster and budget rules as Homegrown Players occupying Reserve Roster slots 25-28.
---
Fans expect the club to be big players in the free agent market overseas. Between the ambitions of the ownership group and Beckham's character and fame, together with the appeal of Miami as an international playground, Inter Miami CF is probably on the shortlist of best places to play in MLS. Inter Miami has targeted 8 or 9 players from European teams, players who also play on their international teams. Mas says they've not only met with players, but deals could be announced by the end of the summer.
As David Beckham has mentioned more than once, he has received many calls from players interested in taking up residence in sunny South Florida. This shouldn't be surprising. After all, this author was captured by the beautiful weather and lifestyle many years ago.
"It's not surprising for us, we know with the ownership group we have – the ambition – the city we live in, it's going to be desirable for players to come," McDonough said, before seeing the lighter side of the monsoon of players linked with his club. "It's more about trying to take the time to field all the calls to find out if they're true or not."
Mas has hinted at possible big-time free agent signings. He also said, "If you go into our offices, I've seen at least 12 potential rosters." David Beckham has also mentioned more than once that he has received interests from scores of very well known players.
McDonough told media that the team would have three DPs for its first year. (In fact, they had four — one over the MLS limit, the subject of an investigation in the Spring of 2021, prior to the team's second season.)
In MLS teams can sign three designated players, whose salaries do not count against the teams overall salary budget cap. In addition to signing three DPs, there is still a salary cap to contend with, and up to eight international roster spots. Thus, scouting wisely is a critical skill that is needed to fill out the remainder of the roster.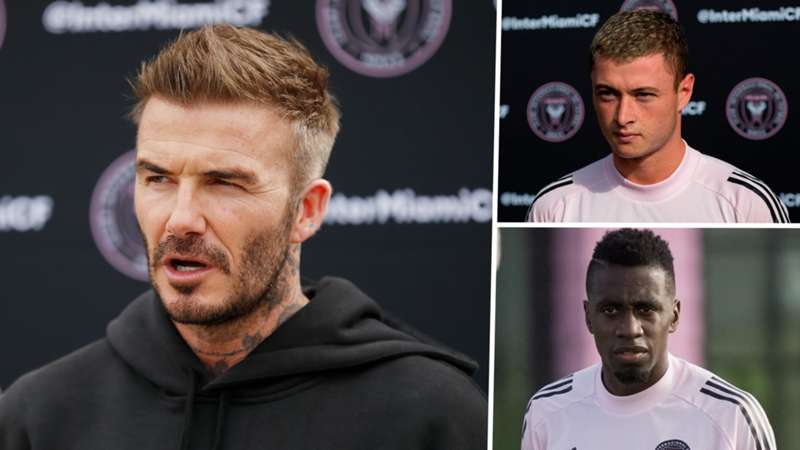 Sporting Director Paul McDonough said prior to the first season, "It's an ongoing process, we're talking with guys. We've had some meetings. Trying to figure out if we're right for them and [if] they're right for us. It's all progressing well."
The use of Targeted Allocation Money (TAM) will no doubt play a significant role in building Inter Miami's roster. MLS invented TAM as a way to increase the quality of play across the league. Using current rules, in 2019, MLS teams receive $1.2 million of TAM per year. MLS clubs also have the flexibility to spend up to an additional $2.8 million of TAM, on a discretionary basis funded by the team, per year, in 2019. This team-funded injection will increase Miami's ability to build its roster with increased flexibility and help add high-quality players outside of the three Designated Player spots.
The appeal of players from South and Central America will fit with Miami's population. Some of those players will likely arrive directly from those countries, while others may return from Europe. With its quality leagues and competitions, players with European experience will bring a lot of skill to Miami.
It is certain that Inter Miami will be active in the upcoming MLS SuperDraft, having one of the top-2 picks this year. However, it's important to explain that the MLS "SuperDraft," as it is called, is not as important to MLS as drafts are to other North American sports. This past season saw Philadelphia trading all five of its draft choices to Cincinnati for targeted allocation money. (Link: Union-say-show-us-the-money-trade-all-5-mls-superdraft-picks/) Teams have also even passed on making a draft selection.
Nashville will also be entering MLS in 2020, so both clubs will compete in the Expansion Draft. If the rules from prior seasons hold, Miami and Nashville will each be able to select five players; however, they will not be able to select players from any teams that lost players in the most recent expansion draft that FC Cincinnati took part in. Also, existing teams were allowed to protect 11 players from their Senior, Supplemental, and Reserve Roster. Only one player could have been claimed from each club's non-protected roster; that team was not allowed to lose any further players. [For example, the five teams that had players selected by Los Angeles FC during the 2017 MLS Expansion Draft were exempt from the 2018 Expansion Draft: Seattle Sounders FC, Sporting Kansas City, San Jose Earthquakes, Columbus Crew SC, and Toronto FC.]
For Miami and Nashville, those "off-limit" teams would be: DC United, Vancouver, FC Dallas, Houston and the Red Bulls.
The effect of Inter Miami having its first players before a head coach is appointed means that players will be selected based on the club's vision.
"David [Beckham] and I have talked about what we want the club to be like, how we want to play. Hopefully we'll find players and a coach that match our philosophy," says McDonough.
---
Timeline of Developments Related to Player Signings Confirmed and Rumours (Latest to Earliest):
26 July 2019: First Two Players in Club History Announced
Inter Miami CF announced what had been the subject of rumours for weeks: the announcement of its first two players. The announcements came across the club's social media channels at starting at 4:00 p.m.
Matías Pellegrini, the 19-year-old left midfielder from Estudiantes de La Plata of the Argentine Superliga has the honour and distinction of being the first player in the history of the Rosanegra.
Julián Carranza, another 19-year-old striker from Club Atlético Banfield, is the second player to be announced. His name was announced about an hour after Pellegrini's.
22 July 2019: First Player Signing
It was reported and confirmed by Estudiantes de La Plata, a club in Argentina's Primera División (Superliga) that a deal was finalized for midfielder Matías Pellegrini.
Link To Stories on Russo Law and Soccer:
2019/07/26/ Inter Miami CF Announces First Two Players
2019/07/23/ Pellegrini Returns From The US and Trains With Estudiantes; Club Releases Statement.
2019/07/22/ Pellegrini Flies to Miami For Medical In A Lightning Trip
2019/07/23/ Estudiantesdelaplata.com Pellegrini Pasó La Revisación En Miami Y Ya Entrena En City Bell
Miami's interest in the midfielder had first been reported on back in June, 2019.
2019/06/25/ Reports Emerge Of Second Player Signing By Inter Miami
2019/06/23/ Report Indicates Inter Miami CF and Club Atlético Banfield Have Agreed On Transfer Of Promising Striker
---
3 June 2019: A story reported on Catalunya Radio and Esport3 says that Inter Miami has made an offer to Luis Suárez to sign the Barcelona forward as its first designated player. Suárez has not rejected the offer, which is reported to be for 4 years. His current contract with FC Barcelona expires in 2021. (June 30, 2021 as is the custom in European contracts)
Selection of Head Coach
Mas has travelled to Europe several times interview potential coaches. He says the list of possible head coaches is narrowed down to three.
A head coach (manager) is expected to be named in mid 2019. Several months ago, Chief Business Officer Jurgen Mainka had this to say when asked:
McDonough agrees the club's first players will come before a head coach is announced. Given the club's own timetable and availability of potential head coaches he estimates the club will have a quarter of the roster in place before appointing a head coach.
August 5, 2019 –
According to reports, the club is close to naming its first manager. Several names have been mentioned.
Link To Read More: Shortlist of Manager Candidates